Your choice: different travel types
On your Sailing holiday in the Grenadines or Day Sailing in St.Lucia you will experience the joy of swimming and snorkeling in the warm, clear Caribbean sea.
You will sail to idyllic desert islands, some of which are accessible only by boat eg Tobago Cays.
(See 3rd page below for a sample itinery).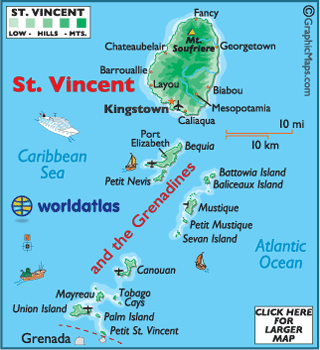 We choose the Grenadines for sailing holidays on our Charter Yacht as these islands are less commercialized and busy than those further north. You will feel that you have gone back in time here where life is slower and more 'chilled out'.
The Grenadines include Bequia, Mustique, Canouan, Tobago Cays, Mayreau, Union Island, Palm Island, Petite St.Vincent, Petite Martinique,and Carriacou.
Regular trade winds of between 10 to 25 knots combine with the gentle currents to create near perfect sailing conditions. For a 7 day charter, we recommend starting in St.Lucia or St.Vincent and ending in St.Vincent. For a 10 day charter we recommend starting in St.Lucia or St.Vincent and finnishing in one of these ports or alternatively ending in Grenada. However, we will arrange the charter to suit your requirements. Rates
ST.LUCIA and DAY SAILING
For those of you who would also like to spend a few days on land near an international airport, St.Lucia is a good choice. At the quieter southern end, there is a lush rain forest, wild parrots, a walk in volanco, therapeutic hot springs and botanical gardens.
The northern end has beautiful beaches, water sports ie. kite surfing, para gliding, diving, jet skiing, dingy sailing, golf & tennis. Next to Rodney Bay, there are many restaurants, bars and night life.
DAY and half day SAILING TRIPS ARE AVAILABLE from Rodney Bay as are Overnight Trips to Martinique and Dominica. Please contact us for further details.
Islands in the GRENADINES
The Grenadines are part of the Windward Islands which stretch 300 miles from Dominica to Grenada. Here is some of the best blue water sailing in the world.
Whilst sailing in the Grenadines and St.Lucia, you will have the opportunity to explore old forts, monuments and charming historical towns.
Bequia is the largest island in the Grenadines and still retains its tradition of boat building. The picturesque town has not changed in years. Its quaint waterfront is lined with attractive bars, restaurants, shops and some of the finest beaches in the Caribbean. The turtle sanctuary is also a popular place to visit.
Mustique with its British royal influence has become a private estate attracting many wealthy celebs who have built holiday homes here. The anchorage can sometimes be rolly like it's neighbour, Canouan.
The sun dappled desert islands of Tobago Cays are the main attraction in the Grenadines where you can swim and snorkel with the turtles, explore and have a lobster barbeque on shore which is arranged by the local fishrmen who are excellent cooks.
Mayreau, with only about 300 inhabitants and pronounced 'My Row' has 2 magnificent beaches joined by one road. There are a couple of good restaurants and bars. The snorkeling is good but Wednesdays are to be avoided as this is the day when a small cruise ship now visits !!
Palm Island is good for a lunchtime stop only. It is a small island with one hotel and a wonderful beach lined with Palm Trees which our chef helped to deliver here years ago.
Union Island is another port of entry/departure for the Grenadines. It has a colourful town with a french influence. The harbour is surrounded by reef part of which is occupied by a very popular bar for sundowners. World class windsurfers can be seen displaying their skills in the sheltered green waters behind the reef.
Petit St.Vincent is a luxurious, very quiet private resort with stunning white beaches offering total seclusion for it's guests.
Many colourful, tropical fish can be discovered whilst snorkeling or diving in the Grenadines. We arrange diving with local dive operators. Some of the dives are reputed to be world class. Many wrecks are to be found around the reefs, unfortunate for them but perfect for diving !
See our Photo Gallery for pictures & below for a sample itinery.
SAMPLE ITINERARY FOR SAILING IN THE GRENADINES
The Captain will adapt the charter itinerary to suit you and advise you of sailing directions to coincide with the wind and sea conditions.
Your Sailing Holiday in the Grenadines, will commence with a tour of the boat, a safety talk and then a complimentary rum punch with snacks.
Sails between islands take between 1 hour and 3 hours or up to 4 hours against the wind. Sails from St. Lucia take approx 7 hours to Southern St.Vincent or approx 9 hours directly to Bequia.
SAMPLE ITINERARY
7 NIGHTS: St.LUCIA to GRENADA
St.Lucia.......First night mooring between the Pitons /Souffriere
2nd day...... Sail from Souffriere to Bequia
3rd day m... Explore Bequia or dingy to beach for swimming. PM. sail from Bequia to Mustique. Explore Mustique.
4th day am..Sail from Mustique to Tobago Cays. Swim with the turtles
5th day am.. Swim or explore ashore. PM.. Sail from Tobago Cays to Union Island. Explore ashore.
6th day am.. Sail from Union Island to Carriacou via Sandy Island for snorkeling and lunch. Spend overnight in Tyrell Bay (Carriacou, Grenada)
7th day am sail from Tyrell Bay to Hillsborough, (Carriacou, Grenada) Leave yacht and take ferry to St.Georges, Grenada.
Alternative 7 night routes:
Starting and ending in St.VINCENT including the above islands and also Mayreau and Canouan.
10 DAY CHARTER.
Starting and ending in St.LUCIA
This itinerary is flexible depending on where you will join and leave the yacht.
The minimum charter length is 2 days from Bequia to Mustique and back to Bequia.
A 3 day Charter would be from Bequia to Tobago Cays for one night, a second night in Canouan and back to Bequia or drop off in Union Island where there is an inter island airport.
A 4/5 or 6 day charter will be a modification of the sample itinerary, again to suit your requirements.
Palm Island or Petite St.Vincent are lunch stops only.
Ferries run regularly between St.Vincent and Bequia.
For flights into St.Vincent and the Grenadines see the Travel Page
Other sites
Diving in St.Vincent Diving in St.Lucia Diving in St.Maarten
Holiday Travel Index St.Vincent and the Grenadines Bequia Tourism
Digg it St.Vincent and the Grenadine Hotels

British Virgin Islands St.Maarten Tourism Antigua St.Lucia Martinique
Twitter Craigs List

Fernando's cook books
For flights from the US: American Airlines, Delta, Continental, United, Jet Blue
flights from Canada: Air Canada
Inter Island flights: American Eagle, Liat, Caribbean Airlines
Flights from the UK: Virgin Atlantic, British Aiways, First Choice
PRAXIS - a social website to promote integrity & honesty throughout our society
Best Beach Bar in the Caribbean